THANK YOU FOR YOUR CHOICE
AND WELCOME TO THE WORLD OF DOLOMIA

REGENERATING SOFT BODY BUTTER

Rose hip and Hazel nectar
TONING BODY
TREATMENT
Rich body cream for very dry and demanding skin which provides long lasting skin comfort.
Thanks to our BODY BOOSTER, which acts in synergy with an EXCLUSIVE BLEND of four plant extracts specially selected by our laboratories, it provides an antioxidant effect, tones the skin and protects the blood vessels.
Use And Application Gestures
Massage gently over the whole body with large, circular movements until completely absorbed. Perfect after a hot bath or a relaxing shower.
To take full advantage of the product's effectiveness and amplify the results, take a few minutes to apply the product properly.
1
Warm a small amount of Regenerating Soft Body Butter and massage into clean and dry skin with sweeping, circular movements, one part of the body after another.
2
Massage one leg at a time. Start from the foot and ankle and massage upwards with slow, sweeping movements. Continue with circular strokes over the thigh. To boost the regenerating power of the massage, grasp your ankle with your hands and pull them up to your knee. Repeat 3 times. Use 2 walnut-sized amounts of cream.
3
Place one hand on top of the other and perform circular movements starting from the navel and working outwards to the hips. Then continue massaging the hips, trunk and lumbar area all together with large, sweeping circles. Use 2 walnut-sized amounts of cream.
4
Now move to your arms, massaging from wrist to shoulder with long, deep, semi-circular strokes. Take extra special care on your elbows, using circular movements to soften any thick skin. From your shoulders, work downwards to the shoulder blades and back of the neck, like one large embrace. Use 2 walnut-sized amounts of cream.

DOLOMIA PHYTOCOSMETICS FIGHT ALL FORMS OF SKIN AGING

Take a moment to boost your energy levels with the exceptional properties of water. If you need waking up in the morning or are feeling tired in the evening, finish off your shower with an invigorating burst of cold water.
During the day, top up your energy with an infusion of elderflower and rose hip to drink when you have a free moment. As well as keeping you hydrated, it will stimulate your body's vital functions and relieve tension and fatigue.
Restores the original state of wellbeing of the cellular environmentwith a cyclical detoxifying and oxygenating action.

The strong and regenerated skin cells are ready to better absorb the specific active ingredients.

WITH POWERFUL
NATURAL INGREDIENTS

BODY BOOSTER
For a toning and replenishing action
Dandelion root + Synergy 46-12®
PHYTOCOMPLEXES SPECIFIC
Rose hip oil

This pure, highly concentrated oil regenerates and restores vitality to skin, fighting the aging process.
Hazel oil

This effective oil, which is rich in unsaturated fatty acids and vitamins, protects the skin, nourishes it and leaves it feeling smooth and soft.
We use pure water from the Dolomites. Carefully formulated to ensure safety and provide a natural skin feeling
FREE FROM SILICONES, FREE FROM MINERAL OILS, PARABEN TESTED
GREEN SUPPLY CHAIN
CERTIFIED
RECYCLED PACKAGING
AND RECYCLABLE

COMPLETE YOUR SKINCARE ROUTINE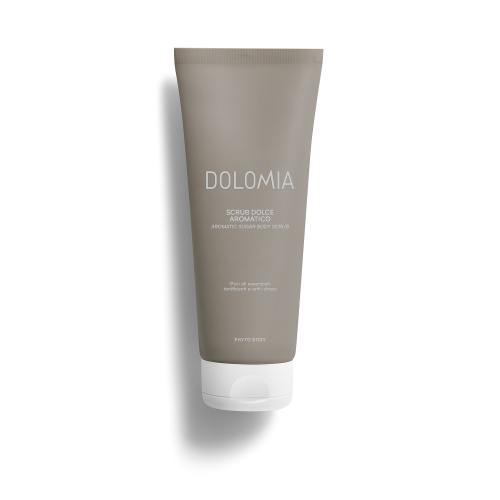 AROMATIC SUGAR BODY SCRUB
Exfoliates and renews the skin with a revitalising action.
Discover our world,
our philosophy
and all our products on